---
LETHBRIDGE - SE ALBERTA / SW SASKATCHEWAN HELIUM FAIRWAY


Exploration for helium in Southern Alberta and Southwestern Saskatchewan dates back to the 1960s. Here, the broad geological setting is a succession of sedimentary rocks overlying PreCambrian-granitic basement rock. The helium is generated by the radioactive decay of uranium and thorium contained in the basement rock. This helium migrates upwards along faults and through the porous and permeable sedimentary rocks until it is trapped by less permeable cap rocks.
Approximately 40 km to the east of First Helium's Lethbridge Project, helium is being produced by a private company at Knappen Dome. The producer believes this feature contains over a billion cubic feet of helium. Similar features are producing helium at Cypress Hills and Battle Creek in Southwest Saskatchewan. Wells in the area can contain helium concentrations of up to 1.5%.
Recognizing the head-start value of existing seismic data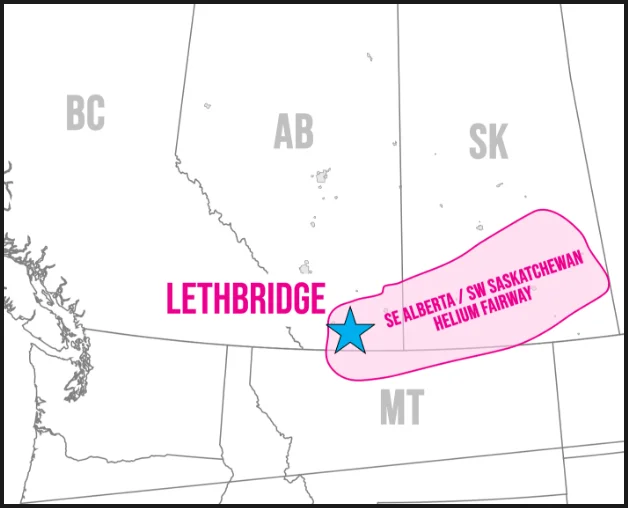 Evaluated over 880,000 contiguous acres of highly prospective land in Southern Alberta, including 230,000 acres of 3D seismic (the "Block").
Southern Area is near known helium production - helium content is greater than 0.5% in a number of formations.
Company high-graded and secured an exploration option on 276,000 select acres of land that are > 60% covered by 3D seismic within the Block.
Excellent opportunity to establish a significant second core area for helium exploration and development in a proven productive region, in a timely, and cost-effective manner.
---
LETHBRIDGE - SE ALBERTA / SW SASKATCHEWAN HELIUM FAIRWAY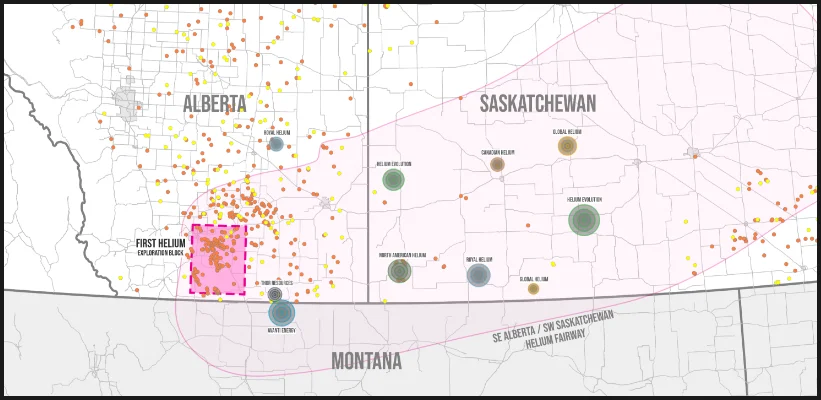 Southern exploration area
Evaluating seismic data and identifying future drilling locations
First drill location surveyed, and licensed for future drilling consideration
Recent helium exploration success to SE of Lethbridge area
Proximity to existing helium exploration, drilling and production at Knappen Dome
Helium content > 0.5% in multiple formations
First Helium sees the Knappen Dome as part of a greater fairway that contains multiple targets comparable to a nearby helium producer's discovery.
---
SE ALBERTA / SW SASKATCHEWAN HELIUM FAIRWAY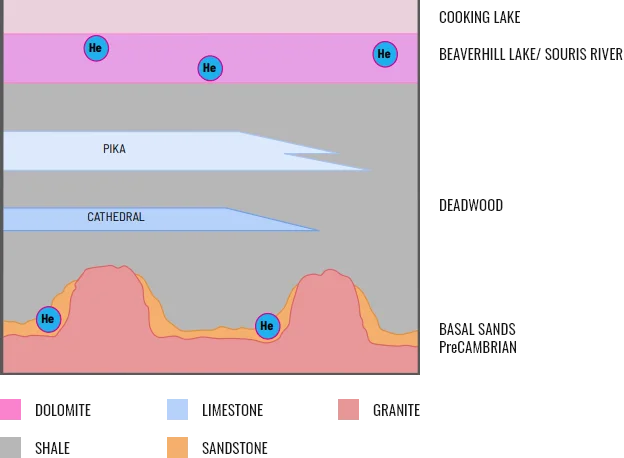 First Helium targets are similar to known helium accumulations at Knappen, Battle Creek, and Cypress

Multiple potential targets with four-way closure

Multiple zones of good porosity and permeability

Basal Sands on-lapping onto pre-existing Precambrian highs with high porosity and permeability

Porous and permeable intervals within the dolomites of the Beaverhill Lake/ Souris River

Helium content > 1%, with high nitrogen content, totally inert gases
First Helium approached the region in a strategic, detailed manner. We optioned over 880,000 acres of land. Using seismic data, we high-graded that block to a select 276,000 acres of high-quality rocks. The company has a major exploration head start at Lethbridge - we have 3D seismic over more than 60% of that ground.
We can leverage that existing 3D seismic data (which would cost $millions and years if acquired or commissioned today). That dataset is invaluable to the exploration team. 3D seismic helps visualize subsurface features and more accurately defines drilling targets. That substantially reduces the exploration risk.
While our Worsley project is much more advanced, and offers risk-mitigating exposure to multiple commodities, we see the Lethbridge Area as a significant second core area for high-impact exploration and development. And the First Helium team has already identified multiple target traps. This is a proven productive region with identifiable exploration risk and high impact upside.